Now, we're going to stick our necks out a bit on this Valentines Gifts topic. We're going to play Cupid's Advocate  (get it?!) and urge you to forget the flowers, jewellery, perfume, aftershave, platinum watch and dinner-for-two. This year, the way to your loved one's heart is a box full of sugar sweet loveliness.
And why is this so? Because in our experience there can be few loved-up sweethearts who can resist a sugar-coated sentiment. We've been told this so many times by our customers that we're now willing to believe that the most perfect of Valentines Gifts is a jar, box, cube or hamper full of romantic retro sweets.
Valentines Gifts for your sweetheart
Everyone has a favourite nostalgic sweet. Let's say you were taking part in the Mr & Mrs Show (remember that?), you would immediately know your husband's top sweet treat, wouldn't you? Lemon sherbets, cola cubes, old-fashioned mixed boilings, Parma violets… So this Valentines Day treat him to the yummiest, sweetest of Valentines Gifts. Will it be:
A Loadsa Lovely Liquorice hamper
A Wooden Box of Nostalgia
A Ravishing retro gift assortment
Or why not got for a pick and mix of all our delicious pink and red Valentines-coloured sweets?
If you just can't choose the sweetest of Valentines Gifts…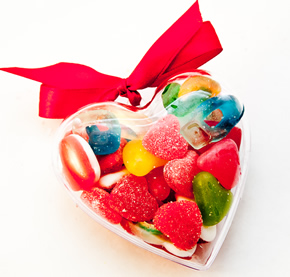 Make your romantic Valentines Gifts for him just a teensie bit slushy with a specially gift-wrapped and delivered Sweet Heart of Jelly Love Sweets or a Sweet Heart of Mini Love Hearts. Or why not sprinkle his or her pillow on Valentine's morning with a bag of delicious Jelly Bean Hearts? Oh, surely, that would be the way to your lover's heart?!
And for givers of secret Valentines Gifts

The way to win your secret Valentine this year is to choose your ultimate Valentine's Day Gifts from our Hearts and Romantic sweetie selection and then let us wrap it up, add ribbons and a special message before sending it anonymously to your sweetheart's home or office. What you write is up to you, but you can be sure that our Valentines Gifts will arrive in tip-top condition and on the right day.
Sugar, sweetie, call your loved one what you want, it's choosing the most perfect of Valentines Gifts is what really   counts on this annual day of loved-up celebration.